Do you ever think, "I'd never be able to do that?" Then let me introduce you to Annie Tran. She spent two days last week as honorary Chief Officer of Awesomeness at The Marketing Spot. And she did it while on her free trip to New York that she won from Jeff Pulver's 140 Characters Conference. How did she do all this? Annie tweeted; posted a series of status updates on Twitter. That's it. Well, she also believed she could win.
What was her secret to winning a free trip to New York (and a place of honor at the Marketing Spot)? In this video from the dimly lit foyer at the 140 Characters Conference, She makes it sound so simple.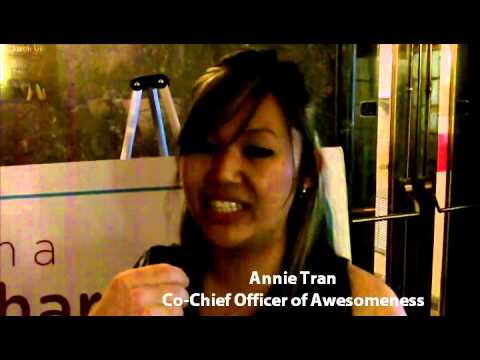 Annie's Advice: Think big. You have to get noticed but use your own voice and be yourself.
Just do it, and see where you go. You don't hold yourself back. If you have an idea, just go for it. If you fail, you learn, but if you succeed, amazing things happen.
---
Don't miss out on free marketing advice. For updates on new articles: Receive The Marketing Spot by Email or subscribe in a blog reader.