Although taglines are not necessary, they help your business cut through the clutter by adding clarity and sizzle to your brand. In fact, a tagline can be your most effective brand communication tool. The first webinar in the Marketing Edge Series is How to Create a Tagline That Makes Your Brand Pop. I've prepared a brief video with more detail on the webinar.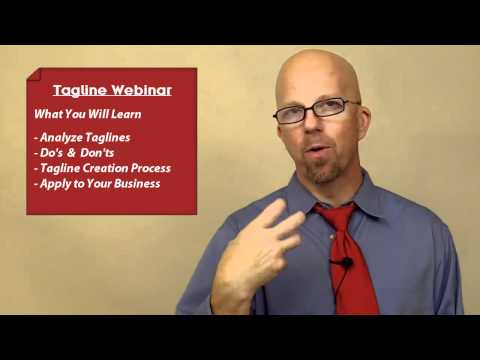 The thing about taglines is you need a good one. Not just any tagline will do. Good taglines have two primary qualities:
1. A good tagline communicate your brand's promise.
2. A good tagline is "sticky," or memorable.
This is the webinar that will teach you how to create a sticky tagline for your brand, that clearly communicates your brand's promise, in a way that helps you cut through the clutter. Your tuition is only $69, and it comes with a money-back guarantee. You can see the syllabus and enroll in the webinar here: Create A Tagline That Makes Your Business Pop!
Date: Thursday, October 6th
Time: 1PM Eastern
Length: 75 minutes
Tuition: $69
…OR
Enroll in all four Marketing Edge Premium Webinars for just $139! Get complete details on all the webinars here:  The Marketing Edge Webinar Series
---
Consider subscribing to this blog and let future articles come to you: Receive The Marketing Spot by Email or Get The Marketing Spot in a blog reader